MCU market demand continues to be booming in 2021 despite being shadowed by Covid-19. Semiconductor companies are generally in tight supply while prices continue to spike. As a leading 32-bit microcontroller company in China, GigaDevice GD32 MCU continues to introduce new products, increase capacity to cope with the market demand, attract new customers, and is steadily advancing in the upsurge of intelligence in all walks of life.
Mr. Eric Jin, Product Marketing Director of GigaDevice Semiconductor, said in a recent interview, "The cumulative shipment of GD32 MCU has exceeded 800 million, serving more than 20,000 customers. We are further opening up new capacity to provide delivery guarantees for the booming market demand."
GVR's previous statistics show that the global microcontroller market size was valued at USD 17.79 billion in 2020. The COVID-19 pandemic has had a substantial impact on the semiconductor manufacturing industries. The fall in production and exports of microcontrollers, coupled with a labor shortage, has led to a significant stagnation in shipment growth in 2020. However, as the lockdown restrictions are getting lifted in countries, the manufacturing facilities have resumed operation. It is estimated that by 2028, the global MCU market revenue will double, with a CARG (compound annual growth rate) of more than 10%.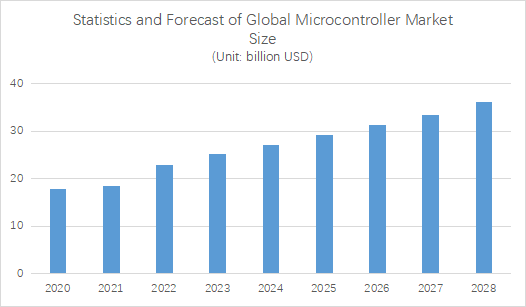 Source: (GVR) www.grandviewresearch.com
In the global market, China-based MCU manufacturers have seen impressive growth. At present, Chinese MCU manufacturers are actively deploying general-purpose markets and mid-to-high-end dedicated markets. They are developing rapidly in mainstream MCU applications such as consumer electronics, smart meters, and IoT.
China MCU manufacturers, led by GigaDevice GD32, are actively deploying the 32-bit general-purpose chip market. The GD32 MCU product family can meet entry-level, mainstream, and high-performance development and application requirements. It has become the most prominent Arm® MCU product family in China, providing 28 series and nearly 400-part numbers to choose from, covering high, middle, and low ends markets in every aspect. The MCU cores range from ARM® Cortex® M3 / M4 cores to the latest ARMv8-M based architecture, Cortex®-M23 / M33 cores, to the RISC-V based MCUs, satisfying user needs in all aspects. Every series provides unprecedented design flexibility and supports pin-to-pin compatibility and flexible software compatibility, allowing users to freely switch between different platforms according to project development needs .
IHS report data shows that in China's Arm®-Cortex® core general-purpose MCU market, GigaDevice has been ranked first among local MCU companies in China's 32-bit MCU market for five consecutive years, and the market share of GD32 MCUs is still growing.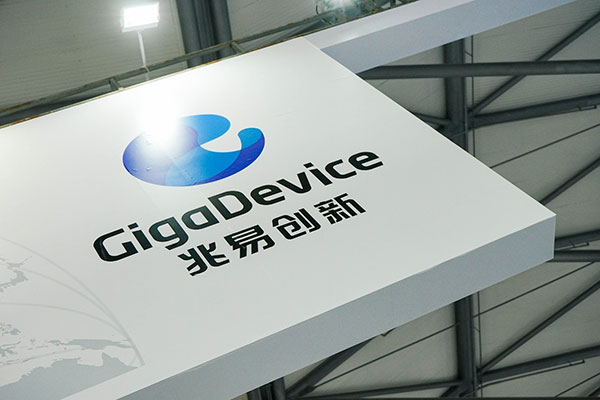 On the one hand, from the published financial report data, in the first half of 2021, GD32 MCU achieved revenue of 797 million RMB, a year-on-year increase of 222.1%. In the past 2020, MCU product revenue has increased by 70.14% compared to the previous year, and sales volume has increased by 75.94% compared with the previous year, which was much higher than the average growth rate of China's MCU market, reflecting the strong development momentum.
On the other hand, Eric Jin also mentioned, "As a leader in China's MCU market, GigaDevice has been committed to the iterative evolution of chip processes and optimizing the upstream supply chain. GigaDevice takes the lead in opening new capacity while stabilizing supply with its multi-production line resource advantage. It provided a delivery guarantee for the rapidly growing intelligent market demand for 5G communications, new energy and energy storage, industrial control, and automotive applications. GigaDevice is also constantly improving the ecosystem, cultivating partners, training users, and empowering developers.
The three major product lines of GigaDevice are memory (Flash, DRAM), microcontroller (MCU), and sensor. GigaDevice has always been strived to create a comprehensive solution for its multi-product linkage. As the core component, MCU can be linked with sensors, analog peripherals, mixed-signal , and various memory combinations.GigaDevice is also actively exploring better intelligent application solutions for embedded systems and end devices, including radiofrequency, new storage, hardware accelerator, signal chain, real-time interconnection, photoelectric transmission, power management, power control, and smart sensors.
▶ Create a more comprehensive and subdivided solution, shorten the customer product development cycle and time-to-market.
▶ Continue to cultivate and enrich the MCU development ecosystem, accelerate the integration of industry, education, and research, strengthen cooperation with partners across the industry chain.
▶ Expand the coverage of MCU products with the help of the wave of digitization and intelligence.
These three tips are what we learned from this interview with GigaDevice, and can also be considered as key elements of the general-purpose MCU development.
Pursue a Complete Solution for Time-to-Market
Creating a more comprehensive and segmented solution to help customers shorten the product launch cycle, as seen from the GigaDevice product portfolio. In the company's product portfolio for motor drive, it also provides products such as power management (PMIC), Gate Driver (MOSFET gate driver), and lithium battery charging management (Charger) around the MCU. Eric Jin said, "In terms of motor control, we build a comprehensive and complete solution, which not only provides logic algorithms but also includes power stage control and signal conditioning."
The company's product portfolio perspective provides a one-stop solution starting with the microcontroller itself to the power supply, sensors, and memory products. It covers many markets that GigaDevice has been deeply cultivated in recent years, including NOR Flash, NAND Flash, MCU, PMU, Sensor, and the latest DRAM.
The GD30 PMU series is aimed primarily at four applications. These are the charging case management IC for the segment market of TWS earbuds, the motor driver for motor control, the LDO linear regulator, and the charge and discharge management IC for new energy batteries.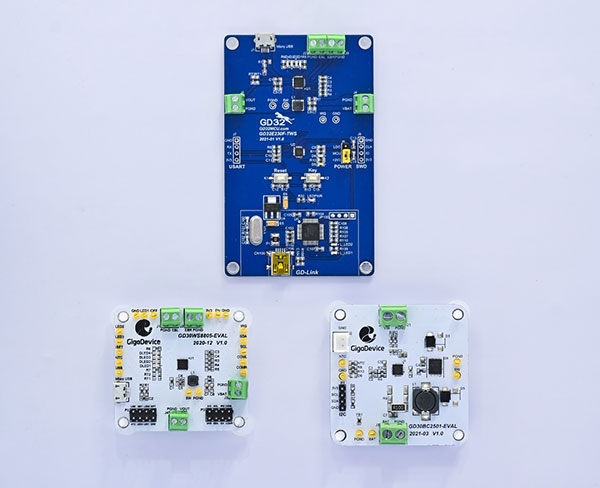 GD32E230F-TWS Charging Case Solution
A typical example is the TWS (True Wireless Stereo) earbuds charging case solution is shown in the picture above. In this set of solutions, "In addition to providing MCU, we also provide the PMIC (power management chip) for TWS, this newly launched power management chip GD30WS8805 integrates six major functions of charging, discharging, communication, protection, earbud detection, and LDO."
In terms of charging management, it can supply power to the charging case battery, earbud battery, and MCU to achieve three-in-one charging management. It can also jointly work with the GD32 MCU to freely configure the constant current, constant voltage, and other parameters during the charging process through the I2C bus. And then realize the intelligent control of the TWS power management system.
It is worth mentioning that the built-in LDO of GD30WS8805 can provide a power output of 50mA and 3.3V for the external circuits, without additional components, thereby reducing the overall cost of the solution, and the industry's leading innovation has won wide attention from TWS industry customers.
Eric Jin said, "add some peripheral components to form a Turnkey solution for TWS earbuds charging case management. At present, this power management chip GD30WS8805 has successfully entered the market. Some industry-leading customers have begun to import the solution and start batch shipments." This proves that GigaDevice's expectation to focus on MCU and expand the practice of market segments: downstream customers in the market segments can obtain more complete solutions in a more direct way.
"In terms of Turnkey solutions, our professional AE team pays attention to the technological development trends of each industry. Provide a wealth of industry solutions for market segments to help customers design and launch products quickly."
For the IoT and consumer electronics markets, the cost is highly critical. GigaDevice leverages the sophisticated supply chain infrastructure and vertical integration to enable cost saving for customers.
Comprehensive Education for Future MCU Talents
Adhering to the simultaneous development of "product" and "ecosystem" is the principle of GD32 MCU to serve customers and establish an industry beacon. In addition to the product itself, the expansion of the development ecosystem is also significant. As mentioned above, the influence of market segments is also part of the ecosystem expansion. In addition, GigaDevice also makes arrangements from two aspects: education and ecosystem cooperation.
Hefei is an important application support base of GigaDevice, and the "GigaDevice Integrated Circuit Science and Technology Museum" is located here. Since the museum was officially opened to the public in 2019, it has received a large number of visitors from scientific research institutions, IC industry peers, university teachers and students, and teenagers. GigaDevice uses the science and technology museum as a platform to carry out multi-level cooperation with universities in the cultivation of MCU talents and education-industry cooperation.
Eric Jin said, "We have vividly demonstrated the whole process of how integrated circuits change from sand to chips through the three-dimensional display of various acoustic and optoelectronics in the science and technology museum, which is very concrete and impressive; this is China's first enterprise-funded science and technology museum with integrated circuits as the theme. It allows universities, scientific research institutions, industry peers, and all age groups of society to further understand the evolutionary history of integrated circuits, and germinate endless imaginations about the future world. The design of the science and technology museum has been patented."
GigaDevice introduces the concept of "people-oriented" into the comprehensive education for future MCU talents. Colleges and universities are fertile ground for cultivating MCU talents. It is worth mentioning that the "GD32 University Program" was set up for this purpose, including creating high-quality courses, carrying out teacher training, setting up joint laboratories to promote development and practice, and holding electronic competitions to stimulate creativity and innovation.
The smart car on display is exactly the work developed by the University Joint Laboratory. Its PCBA design is based on the RISC-V core MCU, GD32VF103 series. This smart car can circle, accelerate, avoid obstacles, and support various other controls. Its target application scenarios include intelligent distribution and warehousing. This is the result of the continuous deepening of the GD32 University Program.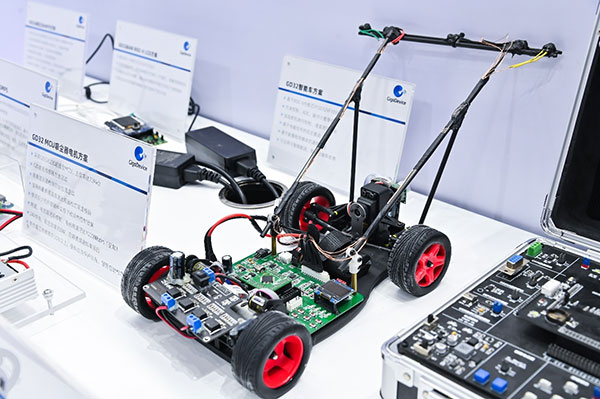 GD32 Smart Car Solution
In addition, the cultivation of high-level talents such as postgraduates is the focus of the GD32 University Program. GigaDevice is the only title sponsor of the Chinese Postgraduate Electronic Design Competition for many years.
In the 16th "GigaDevice Innovation Cup" in 2021, a total of 5,120 teams across the country successfully signed up for the competition, an increase of 34% compared to last year. Approximately 30,000 teachers and students, 254 universities participated in the competition. The Electronic Design Competition continues to inspire innovation and creativity among teachers and students, and a large number of outstanding works have emerged.
Cooperate to Build a Development Ecosystem
The GD32V series is the world's first general-purpose 32-bit MCU product based on the RISC-V core. When it was launched in 2019, it attracted the attention of the whole industry and won the only "best hardware product award" in the world's top international exhibition, "Embedded World 2020," held in Nuremberg, Germany. The picture below is the RISC-V development kit jointly launched by GigaDevice and IAR Systems, Sweden. The mainstream tool manufacturers in the industry are actively providing support for RISC-V MCUs. They have also shown their appreciation and recognition of RISC-V technology and the GD32 brand.
It is worth mentioning that GigaDevice is an IC company mainly providing the MCU based on the Arm Cortex®-M core, and also the very first IC company in the world to launch a RISC-V general-purpose 32-bit MCU.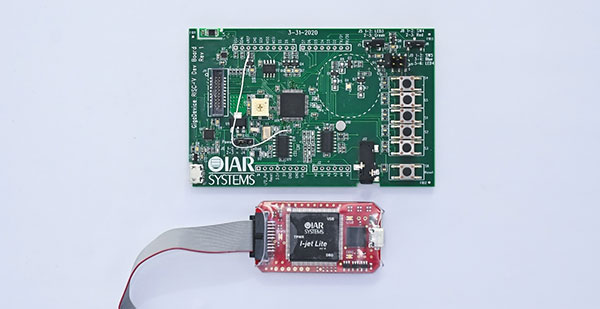 RISC-V Development Kit Jointly Launched by GD32 and IAR Systems
RISC-V is also more conducive to realizing secondary development and customization and can meet more differentiated needs in the market segments. GigaDevice can cover more customers with differentiated needs through the RISC-V product line, and achieve product expansion in segmented areas.
Eric Jin specifically mentioned that GigaDevice, as the world's first IC company to launch RISC-V MCU, will continue to expand the RISC-V product roadmap in the future. Previously released products are for the mainstream market, GigaDevice will continue to launch various high-performance, low-cost RISC-V MCUs in the future to "provide more development opportunities for RISC-V technology."
Expanding the ecosystem also requires linkage with partners. Eric Jin introduced a variety of solutions built by partners or combined with partners' relevant capabilities. For example, the picture below is an industrial PLC solution from NXTROL Technology.
The solution is based on GD32F450 MCU series, using GD32F450+FreeRTOS+LwIP. As the basic platform, LogicLab programming tool supports five programming languages in the IEC61131-3 standard (ladder diagram, structured text, function block diagram, sequential function diagram, and instruction list). It also supports basic PLC functions and function blocks; it supports online data monitoring and debugging, logic oscilloscope, field bus configuration, and can support deep OEM customization.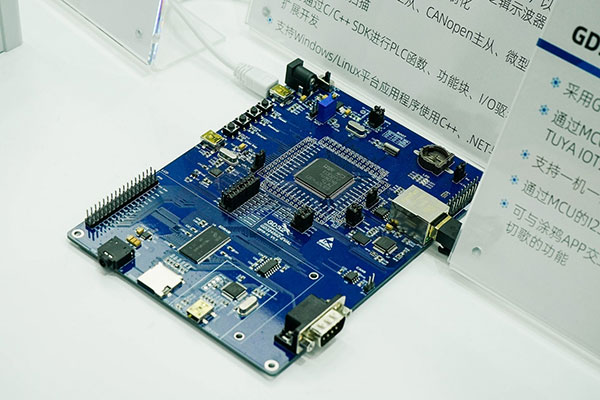 Industrial PLC Solution Jointly Launched by GD32 and NXTROL Technology
It can be seen from the display interface that this scheme adopts graphical programming to realize the conversion from graphical blocks to code. Users can realize complex PLC programming by configuring the graphical interface. The toolset is compatible with the GD32 MCU platform, which can help customers accelerate the development of industrial PLC applications. Customers can use free tools to directly set parameters and easily realize industrial control of PLC.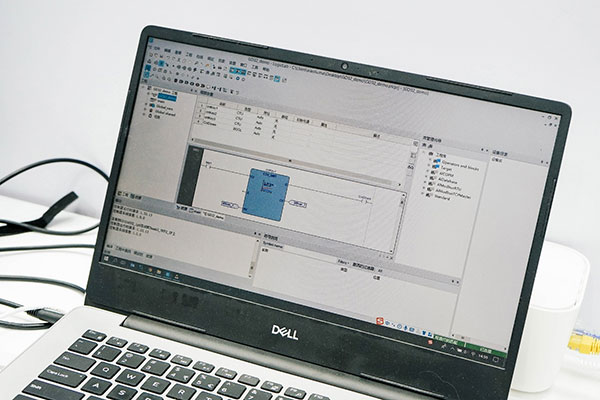 PC Tool Demonstration of Industrial PLC Solution
In addition to such innovative cooperation, there are more ecosystem expansions. Under the current development trend of the Internet of Everything, MCU, as the main control core of IoT devices, needs to be connected to the cloud to achieve richer features such as remote control. Therefore, GigaDevice naturally cooperates with operating system and cloud service providers.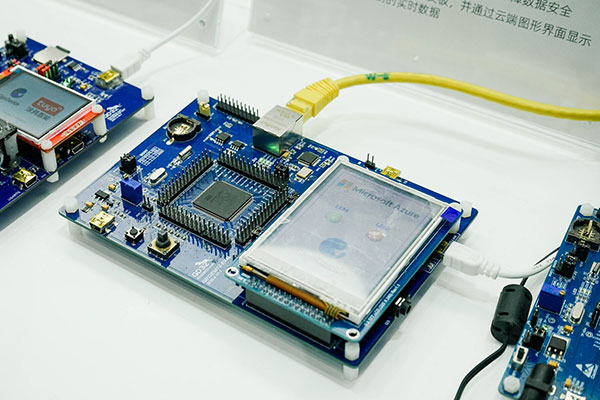 GD32 & Microsoft Azure Operating System Solution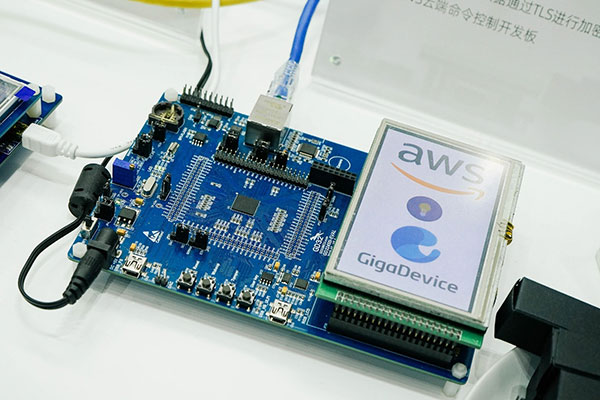 GD32 & AWS Operating System Solution
For example, the two pictures above show the cooperation between GigaDevice and Microsoft and Amazon respectively. The GD32 MCU is connected to the Microsoft Azure cloud; and through FreeRTOS, it is connected to the AWS Amazon cloud. The process of one-click cloud access is quite simple for developers.
With the development of AI and IoT technology, smart devices are accelerating in popularity. There are new smart devices such as smart speakers and sweeping robots are becoming more prevalent in our daily life. At the same time, the pace of intelligentization is also advancing in the fields of traditional industry, agriculture, and city management. Under the development trend, higher requirements have been raised for the performance of MCU.
At present, the main pain points that need to be solved in the artificial intelligence field include how to deal with massive amounts of data, achieve more precise control, and gain higher performance. This with lower cost, lower latency, lower power consumption, and support cutting-edge algorithms such as TinyML. These are our main directions in the AIoT field. Whether it is a small node for connection or a sensor hub for collecting and recording data, it is mainly linked to the MCU platform. GD32 MCU can also be found in a large number of application scenarios.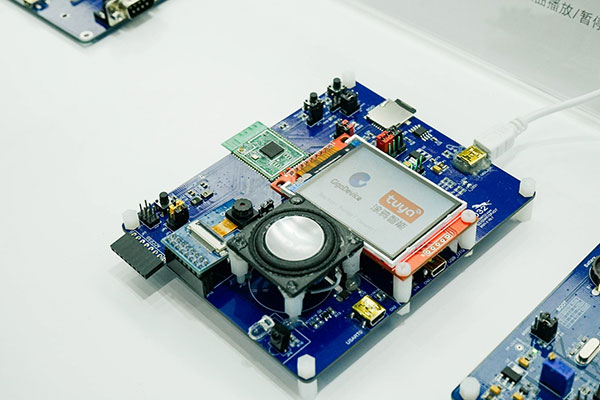 AIoT Solution Jointly Launched by GD32 and Tuya Smart
For example, the picture above shows the AIoT solution jointly launched by GD32 and Tuya Smart. Eric Jin told us that GigaDevice has also become a partner in the development ecosystem of Tuya. This solution uses the I2S+SDIO peripherals of the GD32 MCU to play the audio in the local SD card. The MCU integrated WiFi interface realizes the network distribution of the development board, and the data interconnection of the Tuya App, Tuya IoT cloud and the device. It supports interaction with the Tuya APP, and remotely controls the development board to realize the playback, and pauses songs, as well as the song change function.
It is particularly worth mentioning that the demo is based on the design of GD32W515 WiFi MCU series. GD32W515 integrates the WiFi module directly into the MCU, continues the software and hardware compatibility of the GD32 MCU product family, and supports code reuse. At present, the GD32W515 WiFi MCU series has obtained WiFi Alliance's certification and has passed the PSA level 1 certification of the ARM® platform security architecture, helping end-users improve their devices' security and reliability.
Currently, many Tuya's smart hardware and smart ecological products have been connected to GD32 MCU. Tuya builds an ecosystem through specific scenarios, creating solutions for hotel management, apartment buildings, and smart transportation. From a conceptual point of view, GigaDevice is quite compatible with Tuya Smart: GD32 MCU is also creating solutions for customers in more market segments.
MCU is Used to More Innovative Fields
The TWS charging case solution is a typical case of covering more "market segments." In addition, GD32 MCU can also be found in a large number of application scenarios. With the current wave of interconnection, digitization, and intelligence, billions of IoT devices will use general-purpose MCU products. The development trend of the IoT is inseparable from the MCU market. Whether it is a small connection node or a sensor hub for collecting and recording data, device development requires to be implemented on the MCU platform.
GigaDevice has made great achievements in intelligent agriculture applications:
For example, the breeding industry has gradually begun to introduce the concept of intelligent animal husbandry. To control feeding, detect ventilation, and manage temperature and humidity, to achieve large-scale and accurate quantification of breeding, MCU is the core component.
Another example is tea planting, which requires monitoring of local wind direction, rainfall, soil temperature, humidity, and other data, all of which are inseparable from the existence of MCU.
Even drones for plant breeding in agricultural greenhouses, aerial fertilization, and agricultural machinery for efficient harvesting have also widely used the GD32 MCU product family.
In fact, not only the development of AIoT has brought a lot of opportunities to MCU, but the technological innovation and function expansion of MCU has also brought more possibilities to traditional industries.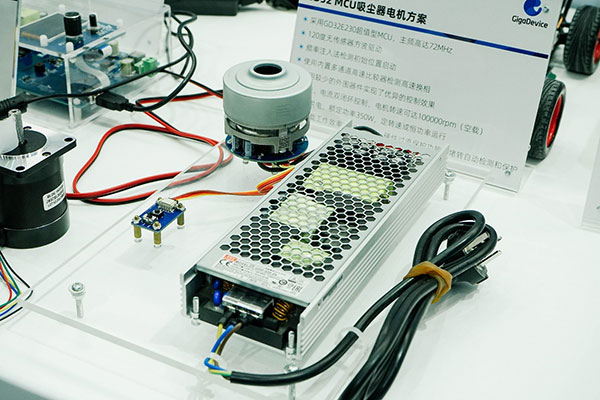 High-speed Motor Solution for Vacuum Cleaner Built on GD32 MCU
Mr. Eric Jin introduced us to many examples that can reflect the general-purpose 32bit MCU covering more application scenarios, such as the motor solution for vacuum cleaners shown in the picture above. This vacuum cleaner solution realizes the high-speed rotation of the motor built on GD32 MCU. The solution uses GD32E230, the value-added MCU to control the motor, which is embedded with a Cortex®-M23 core, has a very high-cost performance. By using the FOC (Field-Oriented Control) algorithm developed by GigaDevice, a motor speed of up to 100,000 revolutions can be achieved.
Mr. Eric Jin said, "The industrial control field has always occupied an important position in the MCU application market. With the continuous expansion of market demand, the industry has higher requirements for motor drive technology and controller performance. First of all, the digitization of motor systems is an inevitable development direction. On the basis of high-performance and high-speed processors, the electric drive control system can realize complex and changeable control algorithms to further improve motor efficiency. Secondly, the lightweight and integration of motor systems are also the development trends. Combined with limited peripheral devices, excellent control effects can be achieved. The main control chip integrates multiple functions, which not only reduces the volume of the control system, but also helps to improve the efficiency of the motor system and reduce power consumption. This solution receives high recognition from customers now. In addition to vacuum cleaners, more smart devices will also adopt similar solutions, including many smart home products such as sweeping robots, hairdryers, and food-processors."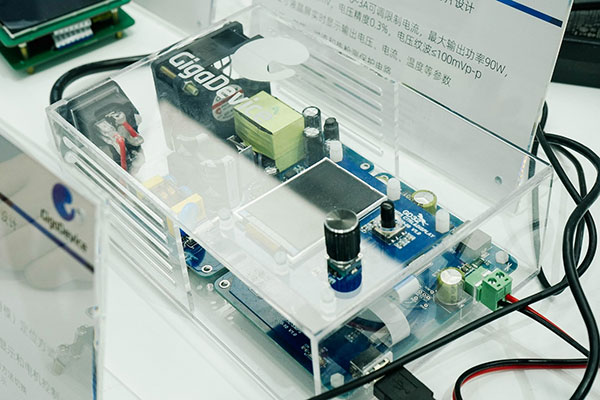 GD32E5 Series Power Supply Switching Solution
The power supply switching solution shown in the picture above is built on the GD32E5 series. This series is mainly for industrial applications such as motors and power supplies. The GD32E5 series has a built-in ultra-high-precision timer (SHRTIMER) with the fastest resolution of 90ps. For power applications, the efficiency can be very high: the adjustable voltage range is 0-30V, the current adjustable range is 0-3A, and the maximum output power can be 90W.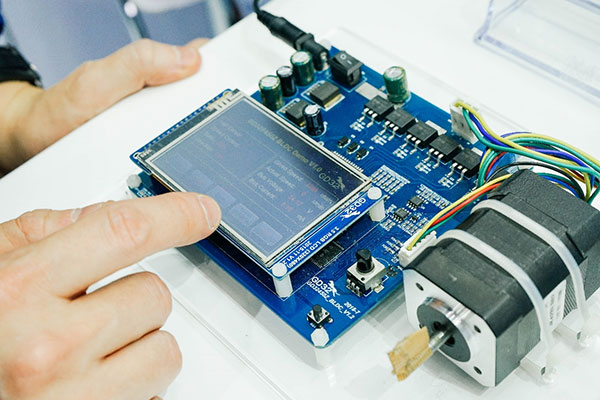 GD32E5 Series Motor + Display Driver Solution
The MCU in the demo above can drive both the motor and the display screen. The motor speed can be displayed in real-time on display. Through the touch screen operation, it can also interactively control the motor's steering, speed, duty cycle, and other parameters.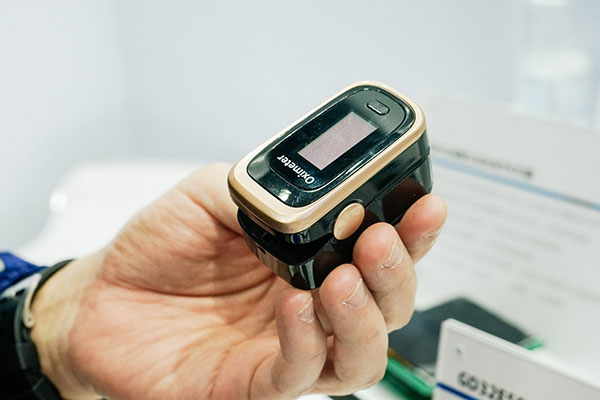 GD32 Finger Clip Oximeter Solution
Since the COVID-19 epidemic, medical and healthcare equipment such as forehead temperature guns, oxygen generators, blood oximeters, heart rate monitors, sphygmomanometers have had an increase in market demand. There are a large number of COVID-19 detectors and vaccine incubators to support the fight against the epidemic. GigaDevice is one of the main MCU suppliers for these devices. Eric Jin also mentioned that GD32 MCU has always had a considerable shipment volume in this market.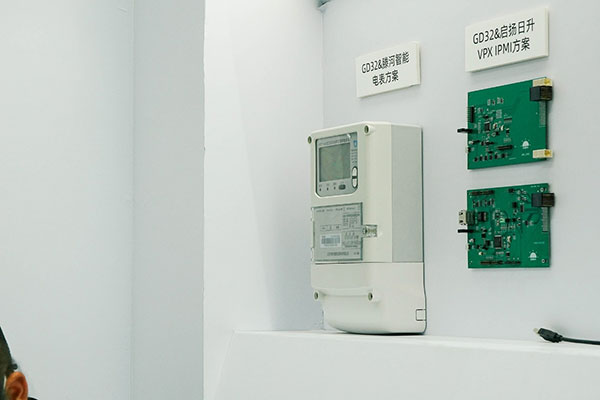 GD32 Smart Meter Solution
Smart meters also have important opportunities in recent years. Intelligent meter reading, remote meter reading, and integration of terminals have been a trend in the past two years. "As well as the water meter and gas meter, we have seen continued growth."
Throughout the entire industrial chain of power applications, from power generation, to power transmission and transformation, to power distribution and power consumption, there are also various opportunities for MCU application: for example, power factor compensation is required for power transmission and transformation, as well as load switches, and energy storage also requires management and inversion of battery charging and discharging. The entire power market will also become an important market direction for GD32 MCU in the future.
At the same time, rail transit, railway signal control, traffic road markings are also opportunities that GD32 MCU can tap in. "It even includes smart light poles, which integrate various functions such as indication, positioning, and charging. There are also many application opportunities for us." Eric Jin added.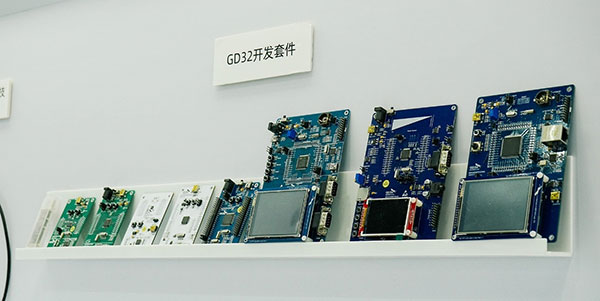 GD32 Development Kit
As long as the traditional facilities and equipment are digitized, networked, and intelligent, MCU must be involved. We haven't talked about more hot spots before, such as the demand for MCUs for new energy automotive. The automotive market is developing in the direction of intelligence. As the core of the internal calculation and processing of automotive electronic systems, MCU is the key to achieving automotive intelligence. Relevant data shows that MCU chips account for about 30% of the number of semiconductor devices used in a car. This means that each vehicle needs to use 100-200 MCU chips. As automotive continue to evolve toward intelligence, the demand for MCUs will grow exponentially. "Our automotive-grade products are already under development, and it is expected that an automotive-grade MCU will be officially launched within six months." Eric Jin emphasized.
GigaDevice mentioned in its 2021 mid-year report, "In the first half of the year, the company's MCU product revenue increased by 222.1% year-on-year. It has achieved tremendous growth in the fields of energy and power, industrial automation, medical equipment, security monitoring, automotive instrumentation, entertainment audio and video, T-BOX, and home appliances.
The company has always been customer-oriented. New MCU products, including PMU, WiFi, and low power consumption, will be launched this year. GigaDevice continues to evolve the positioning and connotation of "MCU Department Store," enriching products in the fields of industrial, automotive, and commercial, and providing customers with complete solutions.
This not only illustrates the development blueprint of GigaDevice in MCU, but it is also the focus of the entire industry. Using their advantages in the industrial chain to create more complete and segmented solutions, while expanding the MCU ecosystem, and taking advantage of market trends to allow MCU products to cover more fields, these are the thoughts we felt after the in-depth interview with GigaDevice. These are all initiatives of GigaDevice to expand the advantages of MCU sales and the market itself.