On August 26th, 2021, the "Global MCU Ecological Development Conference" hosted by Aspencore, a well-known media company in the global electronics technology field, was successfully held in Shenzhen's Sentosa Hotel. Gatherings of many technological and application-related experts, as well as prominent companies in the industry, attended the conference to discuss the latest microcontroller (MCU) processor technology, edge AI, emerging applications, ecological development, and other key topics.
As a leader in the global MCU market, Mr. Eric Jin, Product Marketing Director of GigaDevice Semiconductor, delivered a keynote speech titled, "GD32, Drives MCU Innovation with a Wide Range of Product Solutions" at the Conference. He shared the company's recent accomplishments, industry insight, product direction with the breadth of ecosystem partners. The wide variety of demo systems drew many visitors to GigaDevice and brought up in-depth discussions.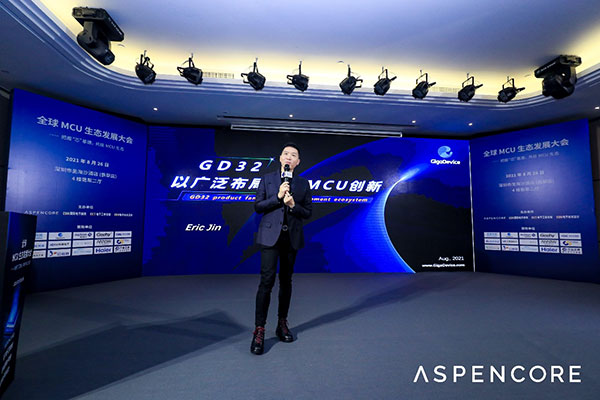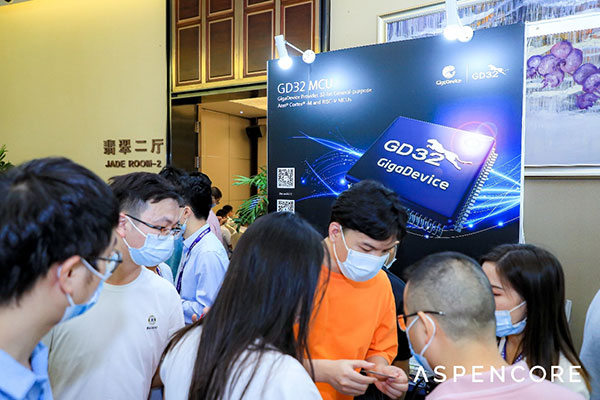 GD32 MCU is China's most prominent ARM® MCU product family, the first ARM® Cortex®-M3/M4/M23/M33 MCU product series in China, and the world's first company to launch the RISC-V core general-purpose 32-bit MCU product series.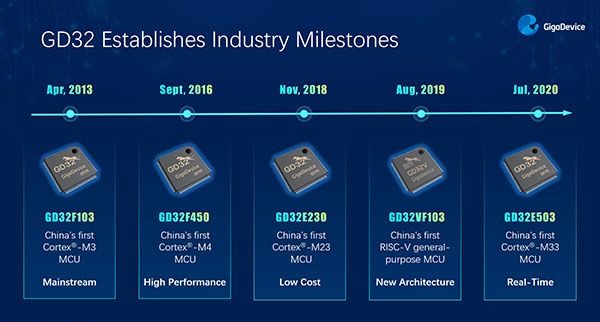 GigaDevice has been ranked first among local MCU companies in China's 32-bit MCU market for five consecutive years, with an annual shipment of more than 200 million units and cumulative support of more than 20,000 customers. GigaDevice continues to establish MCU's industry milestones with the comprehensive strength of "product & ecosystem" and continues to lead the industry development.
The GD32 MCU product family currently has 28 series and more than 370 part numbers, covering the high-end, mainstream, and low-end markets. The MCU cores range from ARM® Cortex® M3 / M4 cores to the latest ARMv8-M based architecture, Cortex®-M23 / M33 cores, to the RISC-V based MCUs, satisfying user needs in all aspects. It also provides dedicated MCU products for segmented vertical markets, including specific series such as fingerprint recognition, printers, and optical modules.
The design process of GD32 is also evolving and continues to lead the industry. The GD32F103 series launched in 2013 adopted the 110nm process, the GD32F450 series launched in 2016 adopted the 55nm process, and the GD32E503 series launched in 2020 adopted the 40nm process. Finally, the ultra-high performance GD32H series adopts the 22nm process for research and development in 2021. Engineering samples will be available in 2022.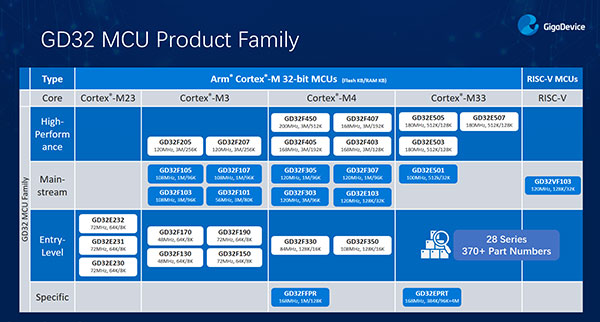 At the conference, Mr. Eric Jin put forward the continuous MCU value proposition of GD32, which is "always being customer-centric, from user to user." GigaDevice defines products with customers and devises multiple production line resources to gain new capacity and guarantee delivery to serve our customers. GigaDevice continues to tap market potential with the user, the product, and production capacity in mind. High-quality, reliable products remain stable with the help of multi-production line resource allocation. GigaDevice has flexible deployment, a stable product supply guarantee, and active global service networks. GigaDevice will continue to support strategic customers fully, serve the masses of users, and provide a thriving ecosystem.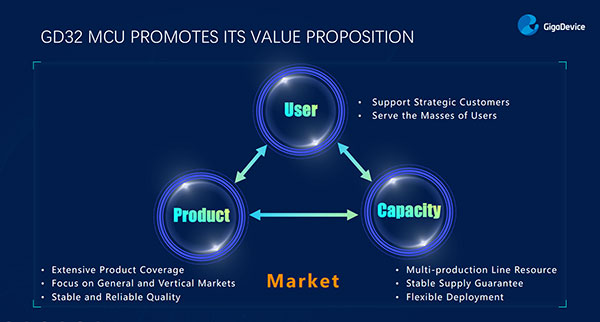 Mr. Eric Jin introduced the future market-leading GD32 MCU series that will launch in the second half of 2021:
l GD32W515 Wi-Fi MCU series, based on the Cortex®-M33 core and supporting TrustZone® security functions with a system frequency of up to 180MHz. It offers large-capacity on-chip Flash memory and SRAM cache with QFN56 and QFN36 packages. This new product family integrates excellent radio frequency performance and anti-interference features, rich I/O interface, and industrial-grade temperature while maintaining software and hardware compatibility with the existing GD32 MCU series. At present, the GD32W515 Wi-Fi MCU series has obtained Wi-Fi Alliance's certification and has passed the PSA level 1 certification of the ARM® platform security architecture, helping end-users improve their devices' security and reliability.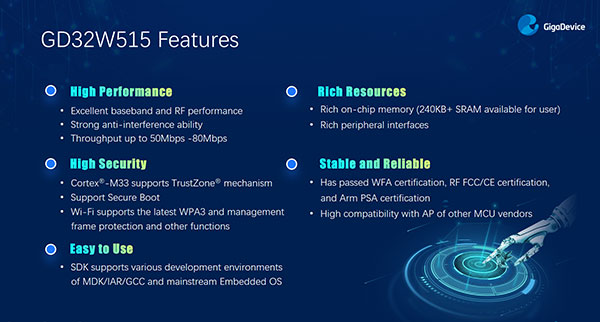 l GD32L233 Low-power MCU Series, based on the Cortex®-M23 core, focusing on mainstream low-power development needs. With a system frequency of up to 64MHz and the built-in flash memory up to 256KB, it provides 10-part numbers and four package options. It supports multiple low-power modes such as shutdown/standby current and battery recovery time. This product family is ideal for battery-powered applications where power consumption is critical.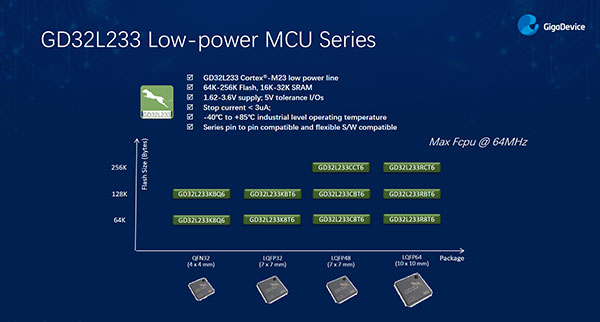 l The new GD30 PMU product line will launch several power management ICs. Currently, 4 PMU series are available to customers. These products are widely used in TWS earbuds charging cases, motors, battery management systems (BMS), wireless communication facilities and equipment. The GD30 PMU is a product extension of the key vertical market that GD32 MCU has been deeply developing for many years and newly tapped. The GD30 products can be used together with the GD32 MCUs to provide customers with one-stop solutions.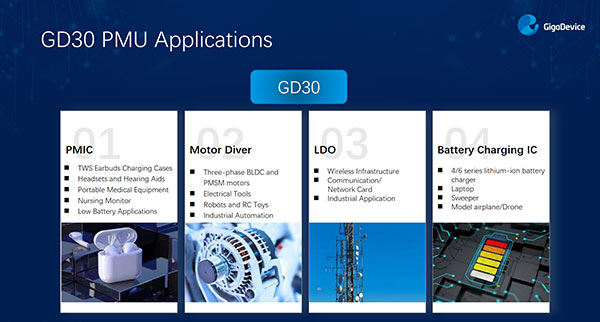 In the industrial field, market demand expands to software algorithms and new innovative peripherals. While GigaDevice is closely monitoring the rapidly changing market dynamics, the company continues to support the needs of high-precision industrial control and high-performance data processing applications.
The consumer electronics market is expanding towards connectivity solutions and Artificial Intelligence (AI). GD32 MCUs support various types of wired and wireless connectivity solutions, graphic User interfaces (GUIs), displays that support smart appliances, home automation, AI innovative applications, and other multiple solutions for sensor-related applications.
GigaDevice will be launching new automotive-grade MCU products to support body electronics applications. In the automotive electronics market, there is a simultaneous expansion in the OEM and aftermarket installation businesses. The automotive aftermarket installation includes in-vehicle audio and video, navigation, tracking, and peripheral diagnostic applications. GigaDevice will support all of them with automotive-grade MCU and safety standard certifications.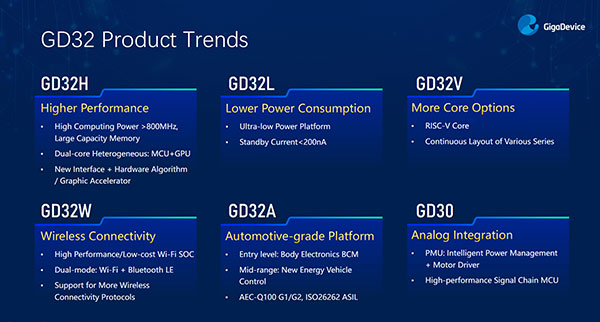 The GD32 product family will continue to evolve and enrich the MCU marketplace's positioning. It will be prolific in multiple MCU tiers such as higher performance, lower power, core and peripheral options, wireless connectivity, automotive-level requirements, safety, and more. This expansion will strengthen the synergy of signal chain processing, analog peripherals, sensors, and various memories. GigaDevice strives to deliver a comprehensive solution for diverse markets.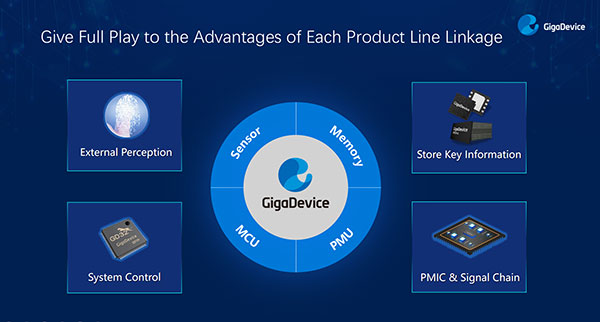 GD32 also provides users with a choice of differentiated MCU products that are not based on the ARM core. GD32 launched the world's first RISC-V ISA-based general-purpose MCU in 2019: GD32VF103 series. The architecture of the RISC-V open ISA can meet the requirements in various market segments.
During these two years since the launch of the RISC-V MCU, GD32 has successively presented several complete platform-based development tools, including software and hardware, with mainstream tool manufacturers in the industry, including SEGGER and IAR Systems. GD32 has connected to various cloud services such as Tencent Cloud, oneNET, AWS, Microsoft Azure, and others to support edge and cloud computing. In 2020, at the Embedded World Conference in Nuremberg, the GD32V series of RISC-V MCU won the title of the best hardware product of the year. Facing new application requirements and historical development opportunities, using the RISC-V core as the main MCU to build a new open-source industry ecosystem, GD32 MCUs have embarked on a path of global development and innovation worth exploring.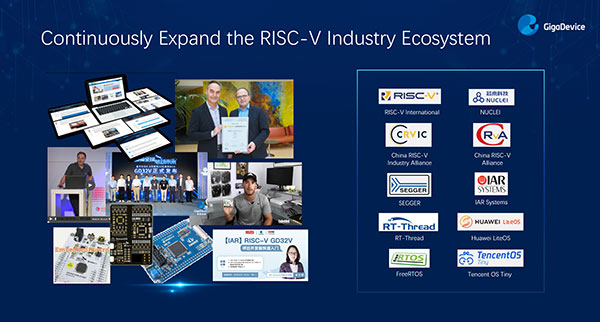 GD32 cooperates with global partners to launch various IDE, EVB, GUI, security components, embedded AI, operating systems, and cloud connectivity solutions. The new technology website provides multiple series of tutorial videos and short clips on-demand for online learning. Datasheets, application notes, software updates, and hardware documentation will be available on this website. GD32 is dedicated to continuously building and enriching the MCU development ecosystem.
Mr. Eric Jin emphasized the multi-cycle and complete coverage of the GD32 MCU developer talent training plan, from middle-to-high school to college education in an all-comprehensive way, providing a solid background to learn and to grow the new generation of Electronics engineers. GD32's university plans include constructing joint laboratories, faculty training, academic sponsorship, and participation in various electronic design competitions. GD32 continues to use the "electronic design competitions" as an opportunity to build a bridge between talent and industry.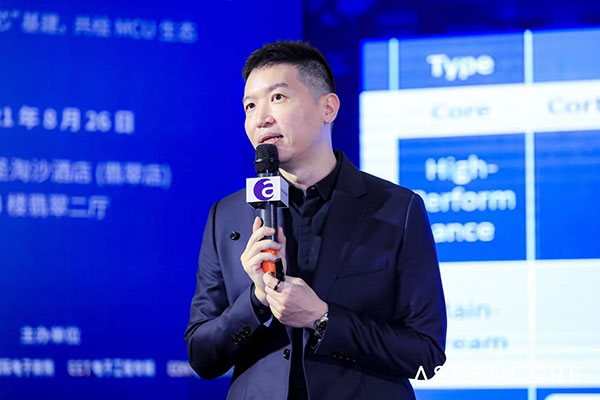 The 2021 Global MCU Ecological Development Conference ended with a roundtable forum. The topic was: " How do the MCU products and ecosystem meet the demand of emerging IoT applications?" Mr. Eric Jin shared his knowledge and answered: "The development cycle of emerging IoT smart devices is relatively short. To seize the opportunities promptly, the ease of use and ecosystem completeness of MCU products are significant. In order to launch products and quickly gain market share, end-users will also need to be more cost-sensitive. GD32 MCU provides excellent cost-effectiveness and will support customers who want to smoothly switch between different product requirements and development platforms, accelerating the mass production of IoT projects.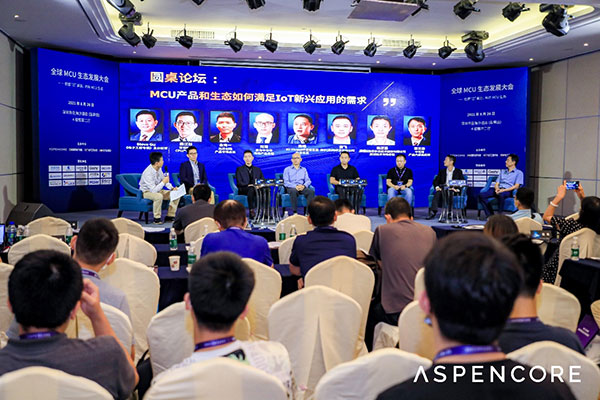 Mr. Eric Jin said that GD32, as a leader in the global MCU market, has been dedicated to the iterative evolution of product processing technology and optimizing the upstream supply chain. The advantage of multi-production line resources will further open new production capacity while stabilizing the supply and provide delivery guarantees for the rapidly growing intelligent market demand of 5G communications, green energy storage, industrial control, and automotive applications. GD32 MCUs will also continue supporting the university plans and expand the MCU ecosystem, cultivating partners, educating target customers, and empowering developers.